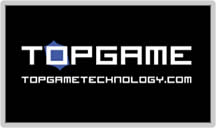 Just in case you haven't heard, there's a new kid in town, and it's shaking things up quite a bit. It all started with some rumors of a new gaming software provider that was boasting of being up to four times faster than the competition, such as Microgaming and Playtech. This new phantom software developer claimed to be the fastest loading next generation platform in existence. Are these claims legitimate, or were these just outlandish statements being made to get them noticed? Well, we decided to find out for ourselves.
The mystery gaming software provider turned out to be Top Game Casinos Platform, a new gaming software developer who has come on the scene with an explosion of excitement. Top Game Casinos do things a little differently. Instead of marketing their software out to existing or up and coming online casinos, Top Game has created their own online casino brands. Each of their seven branded casinos has it's own exquisite design and unique theme, and is of course, powered by Top Game. With the rumors of unprecedented speed, we couldn't wait to visit and try the casinos out for ourselves.
The Top Game casinos that we visited included 3 one of which was Black Diamond Casino. This site was incredibly impressive, with great bonus offers, dynamic 3D graphics, sophisticated design, and of course, lightening fast downloading and gaming features. The game selection for our featured topgame casinos was exciting and the performance remarkable. Blackdiamond Casino indicated that the initial download, install and run would take under a minute, when in fact it took under 20 seconds with a high speed cable internet connection. Top Game has perfected the process by providing a download that is compressed to about 3MB. Once it is completely downloaded, installed and run, the individual games are downloaded in the background while you play. Furthermore, since the graphics and game modules are already installed on your computer, only small packets of data are transferred between your computer and Top Game's servers.
The high speed download was incredible enough, but Top Game software didn't stop there. When playing any of the games from their superb game menu, it truly was real time action. Top Game software provides an experience that feels completely realistic both visually and audibly. The gaming categories were Blackjack, Classic Slots, Roulette, Video Poker, Video Slots and Other Games (such as Keno). The unique game options add to the fun by allowing players to customize the game's music and sounds by adjusting the settings. The Top Game Casino brands were all extremely user friendly and provided great instructional data for beginners. Top Game Platform may just be getting started, but they have already made quite a splash in the online gaming industry. Based on what we've seen so far, we're expecting big things from this gaming software solution provider and will not be surprised at all when Top Game Casinos come out on top!
Attention: In the event you encounter any problems with any of the top game casinos we recommend here, please contact me using our contact page. However please understand I am not the go-to guy for all problems related to topgame. There are bad casinos with every software platform including top game, so if you choose to play at any site not listed on this page then your on your own, I can't vouch for the others. But if one of the top game casino sites I personally recommend has wronged you in any way, please let me know and I will make sure we get to the bottom of it.
Best TopGame Casinos
None Available
Other Casino Bonuses By Software
USA Friendly
Non USA